Farewell Watershed and Pervasive Media Studio
Sep 29, 2013
I've left Watershed and Pervasive Media Studio, where I worked as a Creative Technologist. Wolfram Alpha tells me I was there for 3.33 years.
During that time I've worked on:
2010
Daemon - Artist in Residence Hazel Grian's exploration into Robots & Narrative, Daemon was a little physical chat bot that can interact with the surrounding environment. My first two weeks of the job coincided with the last fortnight of two different artists in residence programs, jumping straight into the rush to build a pair of prototypes before the end of project public showcase event.
Magician's Desk - Artist in Residence Mercurial Wrestler's investigation of integrating technologies into their performative practice, resulting in a sensor driven magical desk powered by Phidgets and Processing.
The Unicorn - As part of the Theatre Sandbox R&D program, worked with Ed Collier & Melanie Wilson to create an audio walk through Hammersmith in chase of an Unicorn escaped from a parallel world. The system played location triggered audio through headsets using wifi beacons and triggered effects in the surrounding environment, such as holographic unicorns.
Memory of Theatre - Working with Calvium on an early version of what would later become Memory of Theatre, I modified Linksys routers running dd-wrt to sniff and log wifi packets of opted-in users. The logged signal signal strength of these packets would later be used to develop software for triangulating the indoor positions of listeners to a sound walk app inside the Bristol Old Vic.
2011
2012
2013
Money No Object - Exploring digital payments (such as NFC and bitcoin) with artist Heidi Hinder.
Solar-wind Chime - Working with artist Helen White to turn space weather data into music using some electromagnets. And Java.
Turning The Page - Using computer vision to detect which page of an interactive travel guide is currently open, for Stand+Stare and Tim Cole as part of REACT.
And a whole bunch of smaller undocumented projects. Data mining social networks for sentiment. Miniature wooden doors that conceal Alice in Wonderland inspired videos. Interactive chimneys for a Santa's Grotto. Various analytics. Interactive region maps for browsing geotagged stories. Stuff like that.
Justin Pickard described the role as a bit like being Bobby Chombo in William Gibson's novel Spook Country. Chombo is introduced as: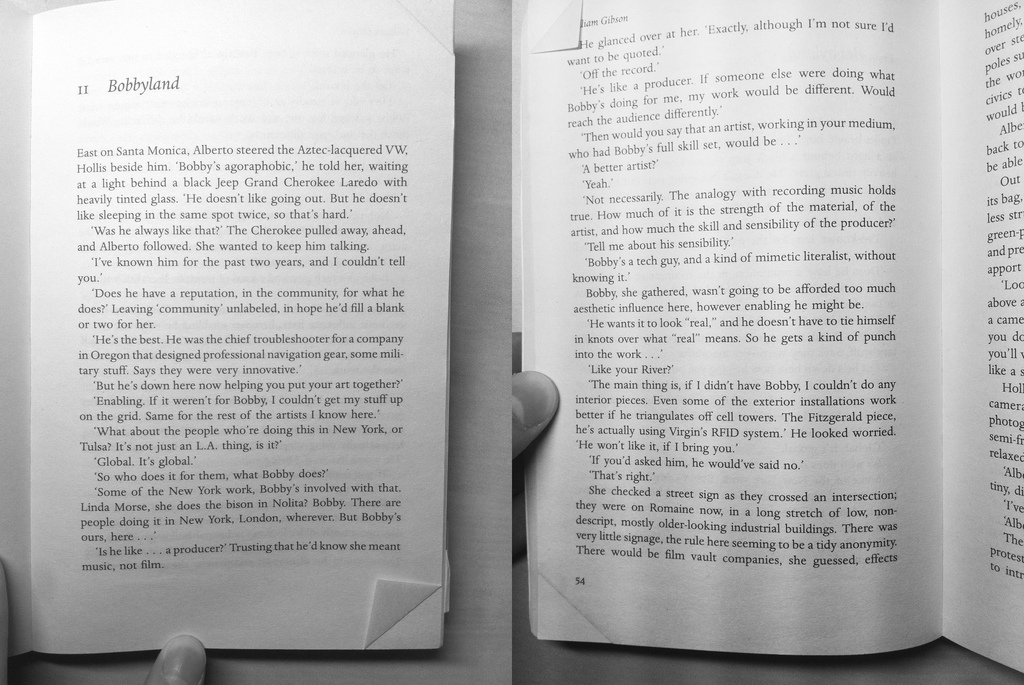 Although the making things wasn't really the point of the role. The point was to be present as someone with a software development background to help collaborators from other backgrounds. Rarely did that involve traditional software development with a specification, a design and a methodology to follow.
As Oliver, our Head of ICT, pointed out: the job wouldn't do well on the Joel Test. Not because it's a bad development environment but because the test makes assumptions about software development that didn't apply in this case.
Sometimes it meant meeting folks briefly, such as at Time Bank, to point at prior art, explain what possible solutions exist and introduce them to possible technical collaborators. Sometimes that meant working with a group for three months to research and prototype possibilities. It was never the same process twice.
It was almost always practice-led. I'd originally hoped to create some kind of manual to introduce people to the terminology, processes and possible technologies they could use. But actually collaborating proved a far more effective way of helping people try technology in their practice. You could see this in REACT's collaborations between academic researchers and companies. They'd begin as separate groups with different languages and approaches. After 3 months they'd be speaking each other's terminology and making it hard to tell who was from industry and who was an academic.
Anyway. It's been a lovely few years working with far too many excellent people to name individually. When Clare Reddington describes the ethos of the place as generosity, it's not some meaningless corporate brand value nonsense. Everyone at Watershed and Pervasive Media Studio really is generous with their time and knowledge, always willing to help others.
(Oh, and they're looking for a new Creative Technologist, if that's of interest)